The Hospital's mission is to provide Lincoln County Residents with excellent health care services
We offer you: 24 Hour Emergency Room, Diagnostic X-Ray, Respiratory Therapy Services, Long Term Care, Acute Care, Intensive Coronary Care/Pulmonary Care, Gastro-Intestinal Disorders, Diabetic Care,…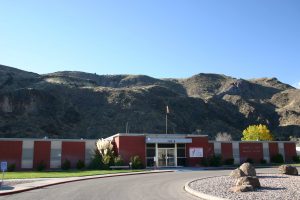 OUR COMMUNITY
Lincoln County is the third largest of Nevada's seventeen counties, covering 10,634 square miles. Named for President Abraham Lincoln, the Nevada legislature established the county in 1867.
Lincoln County includes the communities of Pioche (the county seat), Panaca, Caliente, Alamo, Rachel, and Ursine. U.S. Highway 93 traverses the region in a north-south direction, and for about 120 miles it is designated as a "Scenic Highway." The county is also served by the railroad between Salt Lake City and Las Vegas.dils-train
Five of Nevada's twenty-three state parks–Beaver Dam, Cathedral Gorge, Echo Canyon, Kershaw-Ryan, and Spring Valley–are located within Lincoln County.
OUR HISTORY & STRUCTURE
Lincoln County Hospital District dba Grover C. Dils Medical was established in 1935. The district consists of two ( 2) clinics, one located in Caliente which is RHC and one in Alamo. The Hospital is located in Caliente serving a county population of 4500 to 5000 residents. The Hospital's mission is to provide Lincoln County Residents with excellent health care services. We take pride in serving your emergency, short-term and long-term care requirements. Our fine diagnostic and treatment services are designed to meet your special needs.
We offer you: 24 Hour Emergency Room, Diagnostic X-Ray, Respiratory Therapy Services, Long Term Care, Acute Care, Intensive Coronary Care/Pulmonary Care, Gastro-Intestinal Disorders, Diabetic Care, Vasectomy, Women's Health, Pediatric Care, Toe Nail Removals, Lesion Removal, Post Natal Care, Circumcision, Joint Injections, Tele-Radiology Services, Social Services, TDD Services/For Hearing Impaired, Cat Scan, MRI, Ultrasound, and Simple Out-Patient Surgical Procedures.
"We offer Big City Technology with Small Town Caring."